Empathetic, enthusiastic, with masters degree in Business Administration, and a mother of three describes quite a bit of me. Dealing as a childcare provider/director means managing both staff of 12 and supervision of 64 children. It gives me immense pleasure to be around kids and nurturing them
My name is Amritpal Kaur, and I am working as an RECE since 2016. I have worked with all the age groups. I am keen to observe children grow and from not knowing anything to knowing anything and everything. Working with children gives me an immense pleasure and an inner peace. I want to witness the enjoyment and excitement children feel when they apply their learned skills in their daily life.
Hello, my name is Lisa Cipollone, and I am a Registered RECE teacher. I have been in the field of children for the past 10 years. I have worked with all age groups. As a RECE teacher, I have come to learn, teach and grow with each child in the classroom which I enjoy doing.
My name is Jessica Capozzi. I am an ECA/Cook at Market Lane Early Learning Centre. My passion is to cook for the little ones. I enjoy teaching and working with them, as it allows me to explore new ideas and learn something new each day. I feel very proud and lucky to be in this industry.
Hello, my name is Aisha Malik. I work in the infant room at Marketlane childcare center. I graduated from Humber college from the Early Childhood Program. I am a honest, reliable and loving person. My passion is to work with children. I enjoy teaching and being able to help children with their everyday learning.
My name is Davinder, I am a Registered ECE in preschool room. My passion is to allow my children to discover the world through creative play and many interactive styles. Creativity allow kids to blossom and develop a love for learning. If a student leaves my classroom with new skills, I've reached my goal.
My name is Deepanshu Shukla, I am an Early Childhood Educator in Marketlane Daycare. My passion is to ignite the fire that fuels my student's thirst for knowledge, curiosity and wisdom. I love kids and love to them learn everyday.
Hi my Name is Zeynep Funda Arisoy, and I am a registered ECE in the toddler room. I have graduated from Humber College. I take immense pleasure playing with children, feeding, and assisting them. I believe every child deserves to be loved, understood, and embraced.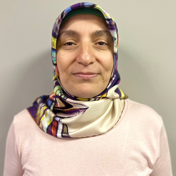 Hello, I'm Nuriye. My 22-years teaching journey with youth and children continues as a Registered ECE in the Toddler Room. It's exciting to be with kids and support them on their journey of discovery and milestones. My aim is to nourish children's curiosity and create learning opportunities through engaging activities.
Hi, I am Harmanpreet Kaur graduated from Seneca College. My goal as an early childhood educator is to ensure safety and well being of children. This job gives me an opportunity to promote holistic development of children by offering an open ended communication, understanding and friendly environment.
Hi, my name is Francesca Sinopoli. I am an ECA in the preschool room here at Marketlane Daycare. A current psychology student and previous art teacher working towards inspiring children to embrace their imagination while uplifting and encouraging a positive self-concept.
Hi, my name is Kulwinderjit Kaur an ECE in Infant room. My goal is to aid the cognitive and social development of infants. This will further enhance their learning skills, language and vocabulary development and communication with others.