Valentine's Recipes
Traditional Glazed Brownie Hearts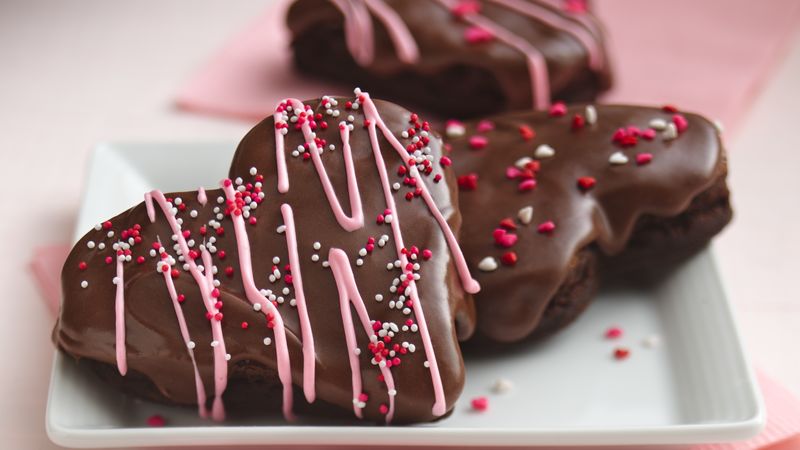 Ingredients
1
box Betty Crocker™ fudge brownie mix
Water, vegetable oil and eggs called for on brownie mix box
1
container Betty Crocker™ Rich & Creamy chocolate frosting
Betty Crocker™ Decorating Decors multicolored candy sprinkles or colored sugar
Get Ingredients Powered by Chicory
Steps
1
Heat oven to 350°F. Line bottom and sides of 13×9-inch pan with foil. Grease foil on bottom only of pan with shortening or cooking spray. Make and bake brownie mix as directed on box. Cool completely, about 1 hour.
2
Using foil to lift, remove brownie from pan; remove foil. With deep 2 1/2-inch heart-shaped cookie cutter, cut 14 brownies. Place brownie hearts on a cooling rack or waxed paper.
3
In microwavable bowl, microwave frosting uncovered on High 10 to 30 seconds. Stir; frosting will be thick and spoon-able. DO NOT BOIL. Carefully spoon melted frosting over brownies to glaze, allowing excess to drip down sides. Sprinkle with candy sprinkles before frosting sets.
https://www.bettycrocker.com/recipes/traditional-glazed-brownie-hearts/03d1d3de-ba30-4272-854e-64a2c65c62ea?sc=valentine%20treats%20for%20kids&term=&itemid=5bf6157e-1bcc-43fd-88f8-39157453886f